THE 2021 CMAA WINNERS ALBUM OUT NOW
The Country Music Association of Australia (CMAA) compilation returns for another year, showcasing finalists from the 49th annual Country Music Awards (the Golden Guitars); the very best of Australian country music.
Out now through ABC Music, the 'Winners 2021' compilation contains a massive 39 songs across a double album set. Featured artists include The McClymonts, Brad Cox, Adam Brand, Travis Collins, Morgan Evans, John Williamson, The Wolfe Brothers, Luke O'Shea, The Weeping Willows and more.
BUY YOUR COPY HERE:  https://abcmusic.lnk.to/CMAAWinners2021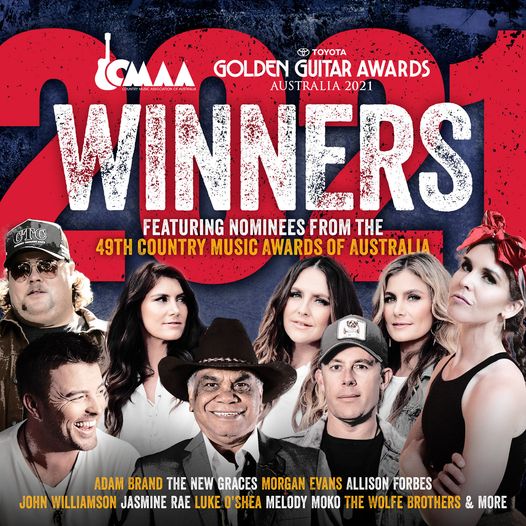 CD1
1. The McClymonts:  I Got This
2. Brad Cox:  Give Me Tonight
3. Adam Brand:  Speed of Life
4. Fanny Lumsden:  Fierce
5. Jasmine Rae:  Green Light
6. Casey Barnes:  We're Good Together
7. Travis Collins:  Rainy Day
8. The Buckleys:  Breathe
9. Morgan Evans:  Diamonds
10. Cass Hopetoun:  Typical Bride
11. The Wolfe Brothers:  No Brakes
12. Darlinghurst:  Gotta Go Rodeo
13. Angus Gill & Seasons of Change:  The New Old Me
14. Hurricane Fall: Ain't Leavin'
15. Melody Moko:  Like Hank Would
16. Shane Nicholson:  The High Price of Surviving
17. Rob Hirst &Jay OShea:  Pearl Shell Buttons
18. Lawrence, Akers, Simmonds, Corcoran:  True Blue
19. Adam Harvey Ft Lee Kernaghan:  Ramblin' Fever
20. Michael Carpenter & The Banks Brothers:  Brothers
CD2
1. The New Graces:  Seasons
2. Warren H Williams:  I Have Travelled
3. John Williamson:  The Great Divide
4. Allison Forbes:  Broken Radios
5. Roo Arcus:  Tumbleweed
6. Luke OShea Ft Lyn Bowtell:  Sing Me a Story
7. The Weeping Willows:  Wheels Won't Roll
8. Kirsty CoxFeat Tommy Emmanuel Finger Picking Good
9. Charlie & Jensen:  Breakfast
10. Pete Denahy:  Darlin' William's Gone
11. Dean Perrett:  Six Decks to Darwin
12. Tom Curtain Ft Lee Kernaghan, Sara Storer:  She Gave Us The Song
13. Small Town Romance Ft Anne Kirkpatrick:  I Don't Believe You
14. Michael Fix:  Dalveen
15. Dianne Lindsay:  Graveyard Hill
16. The Howie Brothers:  Sing Us Some Slim Dusty Songs
17. Graham Rodger:  Running on Empty
18. Peter Coad:  Two Old Bushmen
19. Liam Kennedy Clark & Gabi Blissett:  Wicker Suite