THE 2022 CMAA WINNERS ALBUM OUT NOW
The Country Music Association of Australia (CMAA) compilation returns for another year, showcasing finalists from the 50th annual Country Music Awards (the Golden Guitars); the very best of Australian country music.
Out now through ABC Music, the 'Winners 2022' compilation contains a massive 40 songs across a double album set. Featured artists include Troy Cassar-Daley, Catherine Britt, Felicity Urquhart & Josh Cunningham, Shane Nicholson, Amber Lawrence, Darlinghurst, Ashleigh Dallas, Michael Waugh, Andrew Swift, Jayne Denham and many more!
Available from all good retailers online and in store!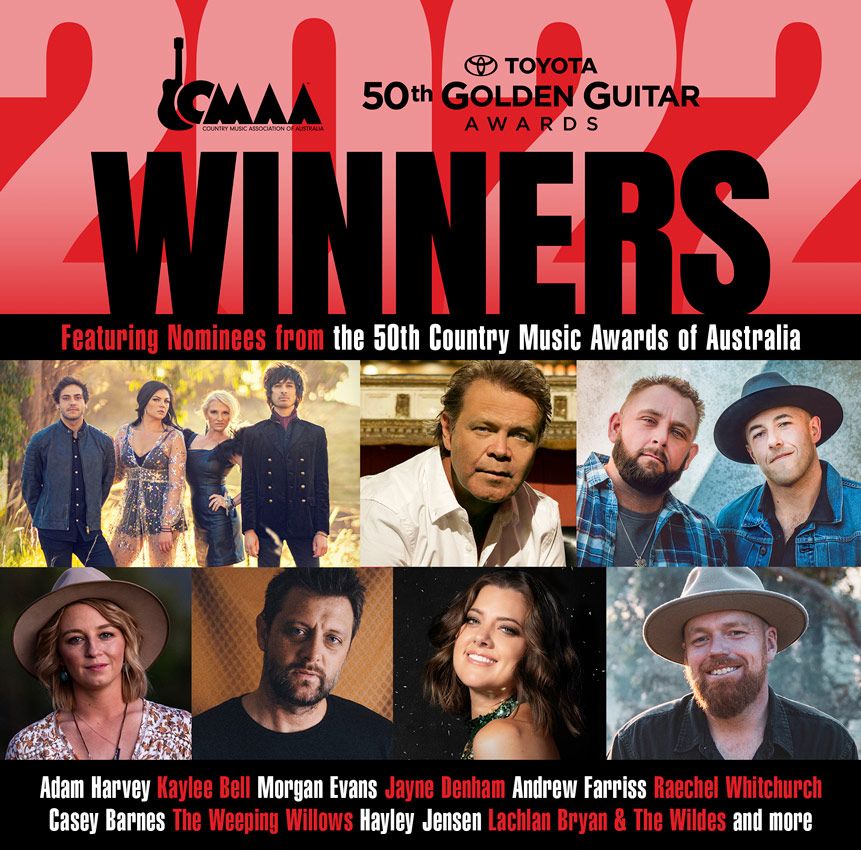 CD1
1. Troy Cassar-Daley - Back on Country
2. Amy Shark feat. KU – Love Songs Ain't For Us
3. Amber Lawrence – Bring It Back
4. Adam Harvey – Lindemann Again
5.The Wolfe Brothers – Kids On Cassette
6. Shane Nicholson – And You Will Have Your Way
7. Kaylee Bell and The McClymonts – Before I Met You
8. Fanny Lumsden – Dig
9. Morgan Evans – Love Is Real
10. Andrew Farriss – With The Kelly Gang
11. Cornell & Carr – Beer Talk
12. Casey Barnes – God Took His Time On You
13. Kirsty Cox – Person of the Year
14. Andrew Swift- The Art of Letting Go
15. Luke O'Shea and Ashleigh Dallas – Long Way 'Round
16. Catherine Britt – Home Truths
17. Felicity and Josh – Spare Parts
18. Davidson Brothers – Golden Plains
19. Lachlan Bryan and The Wildes – Okay To Love
20. Kim Cheshire – Looks Like Heaven
CD2
1. Ashleigh Dallas – Good & Bad Days
2. Michael Waugh – Dirty River
3. Everyone – I Still Call Australia Home
4. Jayne Denham – Wanted
5. Matt Scullion – 1868
6. Dean Perrett – My Fire
7. Darlinghurst - Genevieve
8. Cass Hopetoun – Who Needs Hawaii
9. Angus Gill – Always On The Run
10. Sammy White – Running Away Tonight
11. Hayley Jensen – Karma
12. Montgomery Church – Flowers On My Doorstep
13. Allan Caswell – Don't Shed A Tear For Me
14. The Weeping Willows – Black Crow
15. Camille Trail – I Know I'm Hard To Love
16. Raechel Whitchurch – You Ain't One Of Us
17. Dianne Lindsay – Just Let Him Be
18. Michael Carpenter and the Banks Brothers – Honky Tonker
19. Pete Denahy – Bubbles In The Airlock
20. Tracy Coster - Common Sense